*Watch this video to find out a little bit more about this outcome from the creators themselves:
Defining the Challenge
Being a journalist is not easy in Azerbaijan, and Lejla Sarcevic, a researcher at the Organized Crime and Corruption Reporting Project (OCCRP), is working to tell that story. Sarcevic came to TechCamp Georgia in June 2016 looking for creative new ways to expose incidents of corruption in Azerbaijan that would appeal to the general public, as part of a campaign called the Khadija Project.  
"The Khadija Project was something that was started in 2015" explains Sarcevic. "It's a series of stories that we have done for almost two years now…it's a place for people to dive in and understand everything that's going on over there."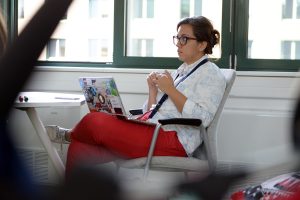 Solving the Challenge
At TechCamp Georgia, Sarcevic connected with Eric Barrett, a data journalist in Tbilisi. "I first came to TechCamp in Georgia and that's where I met Eric, who does these really amazing infographics and is incredibly creative in the ways in which he tells these stories about a complex matter," says Sarcevic. Together, along with Friedrich Lindenberg, a coder and data journalist at OCCRP, Sarcevic and Barrett came up with a plan that uses infographics and animations to explain what corruption in Azerbaijan looks like and how it affects citizens of the country, in a way that would be easier to digest. 
Following TechCamp Georgia, Sarcevic applied for a small grant from the TechCamp program and, with this support, Sarcevic and her team worked to engage Azerbaijani citizens affected by corruption and capture their stories. "We (found) a great reporter in Azerbaijan who has worked tirelessly to find people who are affected by government policies and resulting corruption in the country," Sarcevic says. "This was a major goal of the project for us." The team then created storyboards and contracted a professional artist to draw the comic cells depicting incidents of corruption from the perspective of ordinary citizens as they navigate their daily lives and Azerbaijani politics.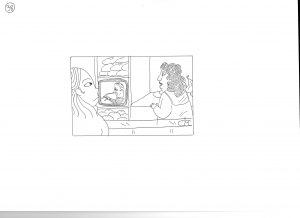 Next Steps at Reconnect
At TechCamp Reconnect Warsaw, Sarcevic was able to once again connect with Barrett in person to map out next steps. "We both live in different countries, and we are both very busy people," Barrett says. "Coming together face to face really allowed us to connect," he said. Even after a brief period the two were able to develop a prototype. "TechCamp Reconnect really allowed us to consolidate our ideas…if there hadn't been the second event I don't know if we would have pushed through into the next phase of making this project what it is." 
Sarcevic and Barrett, along with Andrii Gazin, a data journalist from Ukraine, built out the prototype for a landing page that will house all the stories and illustrations. "The idea is to go beyond the dry reporting that we often see, make it pop and allow people to connect in a sensory way," Barrett explains. "The idea is to intermingle these data elements for context with this very serious human journey through Baku in a very interactive, visceral way."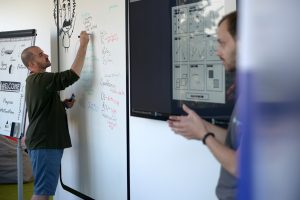 Project Impact 
Sarcevic is most excited about the project, because it encourages different users to engage with the content in their own way. "If you're someone who just comes in and wants to read the comic book to understand how people live, that's great; if you want to click one of the speech bubbles and read a complex story about money laundering that's also great," she explains. "We can engage everyone from someone who's just scrolling on their phone to law enforcement. It's just a really great way to engage our audience."
Going forward, the team plans to take steps to advertise their new content and draw more public attention to the issue by collaborating with news outlets such as Meydan TV. "We think that by publishing on their platform and ours we will be able to get more eyes on the project," she says.
Both Barrett and Sarcevic were amazed that these ideas could solidify so quickly over the course of a short timeframe. "My eureka moment at TechCamp was when I realized not only that we could do this but that we are going to this, that in the near future we would have something to share," Barrett says.
"This is something I've been working on for a year, and yesterday I thought this could be more than just a single project, this could be a whole creative department," Sarcevic says.