In 1976 a team of Congolese, European, and American scientists traveled to the remote town of Yambuku in what was then known as Zaire (now the Democratic Republic of Congo, or DRC) after a group of nuns fell ill with a mysterious fever. The virus eventually became known as Ebola. Scientists travelling from Zaire's capital took days to reach the village, deep within the Equatorial rain forest.
At the first-ever TechCamp in Kinshasa, capital of the DRC, this challenge was still on the minds of participants from both DRC and Republic of the Congo. The DRC has seen a number Ebola outbreaks since 1976, and although Congolese authorities have worked tirelessly to control them, reaching the "unreachable" with messages of prevention and care has been a major challenge. At TechCamp Kinshasa we worked together to see how could use digital communications tools to fill this gap.
Health Officials and communication experts from #DRC and Congo-Brazzaville gather today and tomorrow for TechCamp Congos: Ground Zero for Prevention of the Next Global Health Crisis @IIPState pic.twitter.com/x77Demf6lb

— U.S.Embassy Kinshasa (@USEmbKinshasa) October 30, 2017
I was absolutely thrilled to help facilitate this TechCamp. Earlier this year I was in DRC to document two devastating neglected diseases, river blindness and sleeping sickness. As we crossed the country on plane, then struggled down dusty roads for hours at end, and even canoed up the Congo River to reach patients, I saw firsthand the major logistical challenge authorities face.
What did I learn at this TechCamp?
To reach the "unreachable," we need to "un-tech" our technology
Outbreaks can happen in areas far removed from Kinshasa or Brazzaville, the capital of the Republic of Congo. Internet and cell phone coverage are practically non-existent in these regions, and local TV and print media are often not available.
While participants in the TechCamp were eager to learn the latest new media technologies, almost everyone agreed that we'd need to "untech" to reach these isolated regions. One medium that has been very successful is radio. There are over 500 "community" radio stations in the DRC.
Theatre director Valentin Mitendo of Population Media Center (PMC) introduced an innovative way to push public health messages via radio called "serial dramas." PMC has used this method in over 50 countries. The premise: develop radio shows that are 80% entertainment and 20% about changing the behavior of the target populations.


Valentin walked us through developing a serial drama, stressing that characters should represent both "negative values," "positive values," and "transitional values." By creating an entertaining and dramatic exchange between these characters, these shows pull in the audience over a long period of time and offer role models that can lead to better behavior.
At TechCamp we discussed how a "Papa Ebola" – an antisocial, heavy-drinking hunter – could push negative values, while his wife "Mama Matembele" – named after a popular Congolese culinary dish – could push positive messages of prevention in face of potential Ebola outbreaks.
Can text messages defeat the next outbreak?
Monkeypox is another disease that health communicators in the Congos are focused on, as people become infected by touching or eating infected wild animals. Many TechCamp participants complained that "we simply can't convince villagers that the disease is transmitted by animals."
Cellular technology expert Samuel Mwimba offed a potential solution based on text messages and interactive voice response (IVR) campaigns. Samuel stressed the importance of short, informative texts or IVR messages targeted to users in disease outbreak areas with the aid of mobile companies.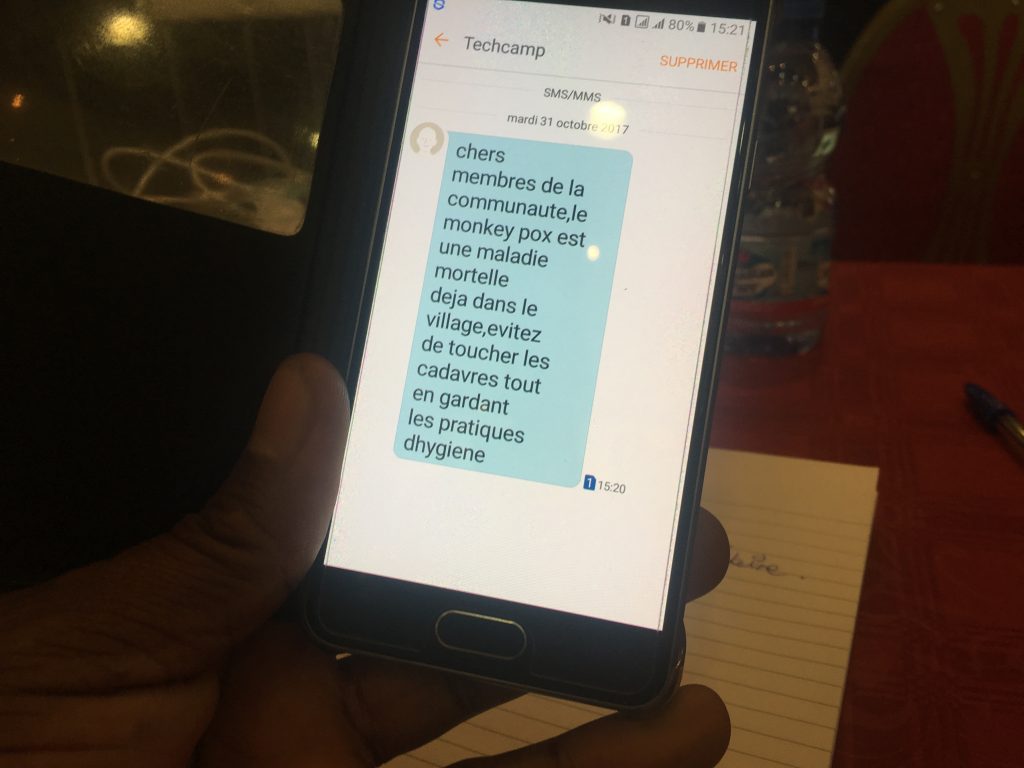 Cellular companies in the region estimate roughly 70% of citizens across both Congos possess and use mobile phones. Cheap flip phones are penetrating rapidly, and many have two phones, one for each available network, to maximize coverage.
Together with Samuel, we developed a model SMS campaign as part of a crisis management exercise. TechCamp participants customized messages to send to a remote DRC village suffering an imagined monkeypox outbreak. Messages provided the theoretical residents information on preventing transmission of and seeking medical attention for monkeypox.
Technology is an empty vessel without good messaging
Messaging is the basis of a communications strategy, yet too many of the health authorities in the Congos lack basic communications training. To fill this gap, we applied some techniques used often by communications agencies in the UnitedStates.
#DRC provincial health leaders & comms specialists develop public health messages for Ebola, Cholera, Monkeypox, Konzo @TechCampGlobal pic.twitter.com/7J7drbb6iz

— Ilan Moss (@ilanmoss) October 31, 2017
I was quite pleased with the outcome. Participants from one group developed a communications campaign for the horribly neglected disease konzo, which causes paralyzation after someone eats insufficiently processed cassava. . I've seen the disease– victims crawl around on the dirt and are shunned by the village. Unfortunately, few in these areas make the link between the disease and eating unprocessed cassava.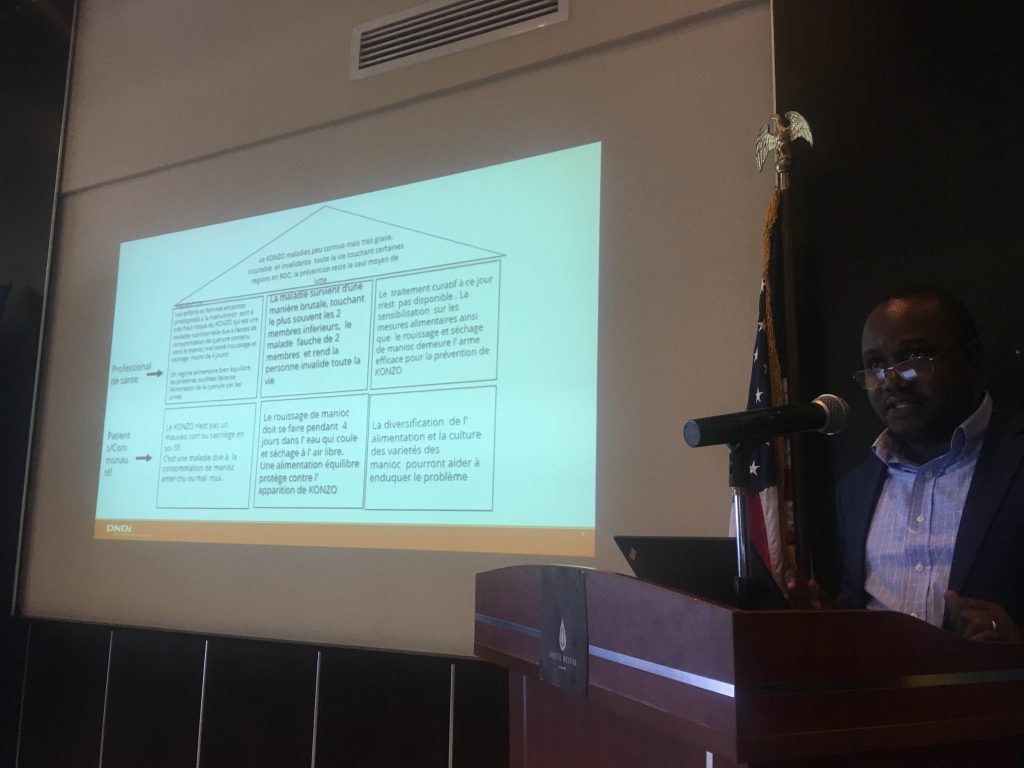 I hope our messaging exercise for konzo leads to more action from regional health authorities to raise awareness.
Video can be very effective, but we just need distribution channels
We analyzed one video, the "Story of Cholera," produced by Global Health Media in collaboration with Israeli animator Yoni Goodman.
It's a perfect example of behavior-changing video: Engaging, simple, non-technical, appealing use of colors, and , a positive message that comes from a real human story, instead of a negative message that inspires confusion and fear.
But how do distribute videos in rural areas? We discussed lots of ideas. One was sharing videos on WhatsApp , but we decided that the most effective method would be to distribute videos via DVD. Many villages in the Congos, despite having no electricity, have movie screens run by generators.
New technologies are promising for the Congos
Finally, we got the chance to sample advanced technologies with the participants. I brought virtual reality (VR) headsets to screen "Out of Sight" a 360 short filmed by the Huff Post in DRC that I participated in earlier this year.
Lots of oohs, aahs, and the occasional screams as we show @HuffPostImpact #ProjeztZero 360 films on #NTDs @TechCampGlobal pic.twitter.com/2uuSFMyh2E

— Ilan Moss (@ilanmoss) October 30, 2017
Although there are still barriers to rolling out new media technologies like VR in rural areas in the Congos, everyone agreed that more advanced tech can soon play a role in preventing the next outbreak.