Soumya Ranjan Biswal is an award-winning environmentalist and climate activist working to protect India's biodiversity through various projects and awareness campaigns. In May of 2022, Biswal participated in TechCamp Kochi: Innovative Solutions for a Sustainable Future. The three-day workshop focused on combating oceanic environmental issues, aligning with Biswal's work in India. He recently won the Times Now 'Amazing Indians' award for his extensive work protecting Olive Ridley turtles from the harmful pollution affecting India's coastlines.
We conducted a brief interview to learn more about his TechCamp experience as well as the environmental projects he plans on implementing in the future.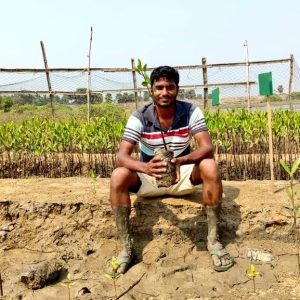 What made you decide to participate in TechCamp Kochi?
I began working for coastal biodiversity conservation in response to repeated natural calamities, such as cyclones. My village, Gundalaba in Astaranga of Puri District, Odisha, is just 500 meters from the coast. Understanding the high risk to coastal biodiversity and oceanic ecosystems, I started mobilizing our community, including youths and women from the fishing community, in 2014.
My main goal was to raise awareness on the importance of native coastal biodiversity such as wetlands, mangroves, coastal vegetation, and the Olive Ridley sea turtle. Conserving these ecosystems could help us combat the climate crisis.
When I learned about Techcamp organizing an event on oceanic environmental conservation, I saw it as an opportunity to participate, learn new and innovative ideas, and apply them in my region to further develop the conservation efforts of our oceanic ecosystem.
Did you establish any professional relationships with fellow participants you met at TechCamp Kochi? How have these connections contributed to your work as a conservationist?
Attending Techcamp was a life-changing opportunity for me, and after nine years in the field of coastal biodiversity conservation, it was an incredible experience. The event featured several innovative sessions and brainstorming sessions, which allowed me to analyze and present detailed information on oceanic environmental health and issues. During the event, I had the chance to build relationships with professionals such as Afreen Hussain, who works for coral conservation, and Agnus Antony, from Kerala. Later, Agnus visited our sites in Odisha and documented our work for her Travel University scholarship.
What was the most meaningful thing you learned at TechCamp Kochi?
The most significant takeaway from the Techcamp was the presentation by foreign scientists like Dr. Kelton McMahon whose research and sessions were incredibly valuable for me. I have many ideas in mind, from sustainable fishing to oceanic pollution GPS tracking and control, which I hope to implement in my region in the near future.
Would you say that the TechCamp was an overall beneficial experience?
Attending the Techcamp was highly beneficial as it provided me with valuable insights into various issues related to offshore and onshore relationships and their impact on oceanic environmental conservation. I was also able to learn about monitoring techniques using technology and various solutions for environmental conservation.
The experience has strengthened my commitment to coastal biodiversity conservation, and I feel more equipped to address the challenges we face in protecting our ecosystems. I am excited to apply the knowledge I have gained from the Techcamp and continue working towards sustainable solutions for the conservation of our coastal biodiversity.
You are a recent recipient of the Times Now 'Amazing Indians' award, what does this award mean to you? Do you believe that winning this award will bring attention to your work?
It was an unexpected and incredible moment when we received the Amazing Indian Award 2022 from the Honorable Vice President of India, Honorable Shri Jagdeep Dhankhar. Despite the tough competition, our event execution cost was only 19,000/- which was very economical. Our goal was to clean up 5.5 tonnes of garbage, conduct a plastic survey every 100 meters to identify the ratio and company of plastic being dumped on our coast, and cover a 20 kilometer stretch of beach at the Devi River Mouth area in Odisha, which is a known Olive Ridley breeding ground. It was a challenging task that we, a team of six members, managed to complete within a month, living in an isolated campsite on the beach. The aftermath of the event was also challenging, as we fell ill and our family members did not even recognize us due to our poor health. Our entry eventually made it to the final round, and we were honored to receive this prestigious recognition in a well-known program by Times Now.
Yes, as of now this recognition has given us a lot of attention and support for our efforts in a remote coastal area of Odisha, and we hope it will help us to bring more attention to achieve our shared goals and inspire others to join us in conservation efforts.
What's in store next for you? Do you have any projects planned for the future?
Despite financial challenges, I have several thoughts and plans for the future. Firstly, I would like to focus on spreading awareness and protection of the mangroves in the Devi River mouth area. While the government has made some efforts to plant mangroves, there is still a lack of proper conservation focus. I would like to expand my work to include strong community outreach and engagement initiatives.
In addition, I am concerned about the preservation and protection of coastal vegetation such as Spinifex and wetland vegetation like salt marshes. These areas are at high risk and there is a need for more conservation efforts and awareness campaigns. I am also keen on tackling pollution issues in important Ramsar sites.
Another major issue that needs addressing is the invasive species like water hyacinth, which has negatively impacted our aqua biodiversity. I plan to work on deweeding efforts to secure our native biodiversity movements.
In 2018, I cycled 800 kilometers and in 2019, I cycled 1200 kilometers along the Odisha coast wearing a turtle costume. During this journey, I covered all the remote coastal villages and schools from the Andhra-Odisha border to the Kolkata-Odisha border to raise awareness on ocean pollution and Olive Ridley conservation. This effort was featured in the Limca Book of Records. I also have a dream to conduct a national cycling campaign that covers the 9 coastal states with a focus on specific issues related to oceanic ecosystem conservation. The goal is to draw the attention of the younger generation towards their responsibility in this regard. However, this dream requires funds, and I hope to receive support to make this event a reality.
Finally, my fight for the safe arrival, congregation, and annual nesting rituals of Olive Ridley sea turtles in Odisha's coast will continue. Despite the challenges, I remain committed to preserving and protecting our coastal biodiversity for future generations.
*** Interview has been edited slightly for brevity and clarity. Following this interview, Soumya was selected to participate in an IVLP exchange program to the U.S., photos below from his IVLP courtesy of Soumya's Twitter.